Detaljer

Kategori: Articles
Opprettet 25. september 2009
Av Communist platform, KPML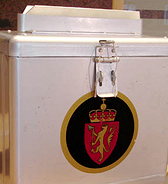 Parliamentary elections were held in Norway on September 14th. The government since 2005 has been a so-called red and green coalition between the traditional, Social Democratic Norwegian Labour Party (Arbeiderpartiet) and its junior partners; the Socialist Left Party (Sosialistisk Venstreparti; petty bourgeois, reformist left) and the Centre Party (Senterpartiet; rural petty bourgeois).
The following article was published by Communist platform the day after the election.